Dear Community Member,
With so much going on in the CA Project and Portfolio Management Community I have consolidated recent activities in case you missed anything.
MEMBER ACTIVITY
Ask a Question, Get an Answer (June 3 - June 10)
It's great that we have such a vibrant community to get quick answers to questions and gain product knowledge! We have very active members jumping in to help others out all the time. The goal of the community is to respond to every members' question so that no one goes away "empty handed".
UPCOMING EVENTS
CA World '16 Call for Speakers is Now Open
LAST DAY IS FRIDAY 6/10! CA World is the best opportunity to learn more about CA software and partner solutions that fuel digital transformations. And we want you to be a part of it.
Got an Idea? We're Listening CA World '16 Session Ideation
If you've been a member of the CA Communities very long, you're probably familiar with ideas and ideation – it's how you can offer ideas on how to improve the CA products you use every day, vote on other members' ideas and comment on them too.
Well, we're bringing that capability to CA World '16 programming!
The CA World team wants your event session ideas! If there is a session that you'd like to see at CA World '16, just visit the session submission form and tell us about it. The CA World team will then review those ideas and we'll post the best ones here in the CA World Community as ideas. You can vote them up or down and comment on them. The most popular session ideas will be considered for November at CA World '16.
Keep an eye out for the first ideas, which we expect to post soon!
CA PPM Office Hours: A Live Online Chat (June 2016)
Have a question about CA Project and Portfolio Management? Connect with CA Technologies technical experts to get answers via Office Hours for CA PPM. Our team is here to help you get more out of your technology. Join us for one hour Thursday, June 9th @ 1 PM ET. NOTE - No audio is provided and all Q&A happens via online chat, making it a truly 'fun' event.
LIVE broadcast planned for June 7th 9am PST.
Tune in @CAPPM @CA_Agile to hear the big news!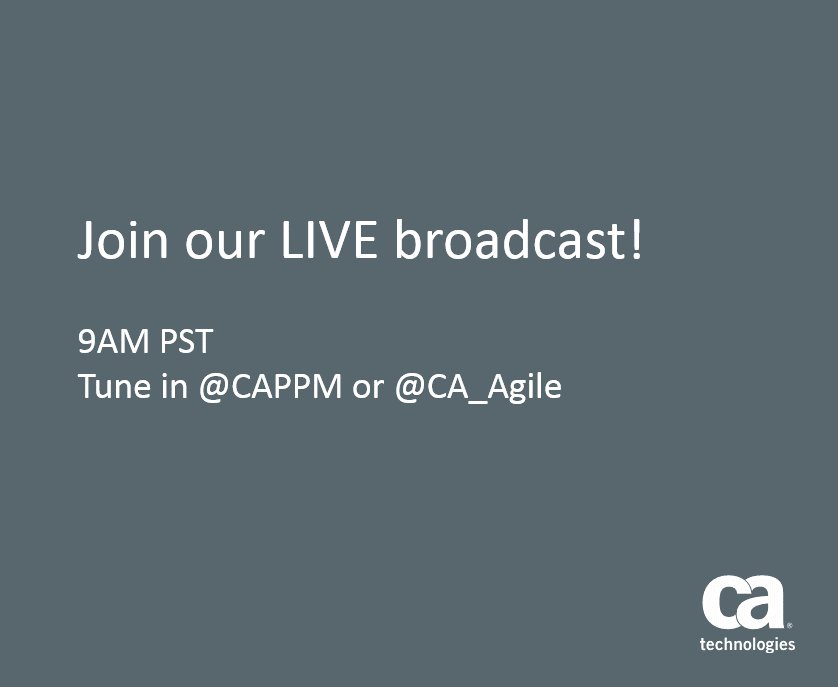 CA EDUCATION UPDATE
The CA PPM 14.4 Learning Paths Are Now Available!
The CA PPM 14.4 Learning Paths are available for both functional and technical users!
CA PPM
available worldwide
8am - 6pm
US Eastern Time
Additional Times May Apply
TECH TIPS AND OTHER HELPFUL INFO
CA PPM Community Sandbox - Upgrade
Install and Configure the Jaspersoft Studio Professional CA JDBC Adapter
Learn PPM with Rego: Custom Object's Sequence Table, Jaspersoft "Loading," Vendor Not Valid, First Day of Work Week, Delete Budget Plan, and Multi-Select OBS Filter
PMO Accelerator Advanced Reporting Content now Available from DocOps
CA PPM Generic Patch Release for 14.3.0.7                                                                                                                                                                                        
CA PPM Tuesday Tip - Conditional Formatting in Jaspersoft
Learn PPM with Rego: XOG, Gel Script Save, Rate Matrix with MSP, Duration, Java 8, and a 10 ALPHA Character Grab
Getting Started with Advanced Reporting with Jaspersoft
GA Announcement: CA PPM 14.4 Localized Documentation
Advance Reporting - Navigate right only does not allow to see/run JS reports
Best Practices for Ad Hoc Reporting Using Jaspersoft
How to Change Your Password in CA PPM
CA PPM Generic Patch Now Available for 14.3.0.6
CA Business Intelligence 3.3 (BusinessObjects) Replacement for PPM On Prem Customers
Task id(prexternalid, outofbox) editable in Openworkbench whereas in MSP not editable
How-to and troubleshooting articles about Jaspersoft
TOP 10 IDEAS BY LATEST ACTIVITY
Promote (copy) reporting content from one environment to another in SaaS - On Demand35NEW
Ability to extract OBS structure into a diagram82UNDER REVIEW
Process for object "Team"13NEW
Enable XOG for Action Items15NEW
XOG ability for Foreign Exchange Rates15NEW
Visual Indicator on Collapsible Sections4NEW
Hierarchical Parent & Child Object Linking in Processes10UNDER REVIEW
Integrate Jaspersoft reports in CA PPM80UNDER REVIEW
Prevent Deletion Flag on Tasks4NEW
A method for preventing PMs from deleting specific tasks and milestones27NEW
That's it for now folks but I'm sure there will be a lot more soon! Take a moment to get in on the discussions in Clarity PPM and make your voice heard!
Regards,
Chris_Hackett
Community Manager, Agile Management