Idevnews | CA World: In 2017, APIs Will Be Doorways to DevOps, Digital Transformation by Vance McCarthy
At last month's CA World user conference, CA Technologies showcased its vision for how an end-to-end approach to APIs has the power to transform IT and business.
CA execs said APIs will be the 'nervous system' for digital transformation, forming the backbone and infrastructure for new-gen digital business. Further, APIs will also provide a gateway to DevOps," driving new agile and quick-to-launch apps.
To empower APIs to achieve these outcomes, CA is focusing its API efforts on three main outcomes, CA's senior vice president of API Management Rahim Bhatia told IDN.
To build "an end-to-end symbiotic relationship between API publishers and API consumers."
To create a flexible and extensible API platform to help IT deliver APIs, apps and services that will help companies meet new opportunities, competition and challenges, and
To ensure API-crafted infrastructure and apps deliver high levels of performance, reliability and customer satisfaction.
To meet these goal, CA is coupling its historic focus on QA, testing, management and security with a new set of API-first technologies, Bhatia told IDN. "Taken together the beauty of CA's approach to APIs is we can help enterprise customer at every point across the lifecycle to get the most from their APIs," Bhatia said.
Specifically, CA's end-to-end API portfolio offers these abilities to IT and business stakeholders:
Even beyond this full slate of API lifecycle offerings, CA is going a step further – allowing each offering itself to become an API-enabled component, like a Lego building block.   "CA is exploring using APIs to connect [these] products together," Bhatia said, evaluating ways to expose / create APIs for each product. This would provide customers an extra level of flexibility where they can easily assemble – or even switch out – components in an API-powered platform for faster and more inventive digital transformation.
APIs Drive Digital Transformation at Beachbody
CA's vision of assembling an adaptable digital enterprise with API build blocks is proving itself at Beachbody, the $1 billion fitness and weight loss firm famous for workout videos and nutritional supplements.
"APIs, when done correctly, are the only way to avoid large re-platforming projects," said Michael Lee, Beachbody's vice president for technology told IDN.
"Beachbody is just completing a big three-year digital transformation project to modernize and bring together a wide range of infrastructure and apps," Lee said. After almost a year of homework, prep and RFPs, Beachbody elected to work with CA on an API-centered approach, coupled with the cloud.
"We came up with next gen architecture to lift-shift out of our [on-premises] data centers into a cloud-first strategy. We also decided to go with an API-driven, domain segmented microservices architecture – all to prepare us for change and agility," Lee stated.
Beachbody's API + Cloud transformation project was "immense and wide-spread," Lee said, "embracing virtually every piece of the company's business critical componentry -- e-commerce engines, CMS systems, customer service portals, registration systems, shopping cart flows and even web publishing workflows."
Before Beachbody's digital transformation projects, very few of these systems talked to each other, having been built at different times to support different products. To improve business efficiency, Lee said his team needed a more seamless and agile approach.
As it turned out, Lee found APIs would prove to be a great way to achieve 'loose-coupling' --  one that could support data, services and component-level integration. In terms of loose-coupling, Lee's team discovered an API-founded approach would solve quite a few of the limitations and complications of SOA (services oriented architecture).
"With SOA, we created a horizontal services team and they became the central source of knowledge for our middleware pieces. The result was an app delivery team would have to depend on that horizontal service to help them," Lee said. "The worst part of this dependency across teams often meant the app delivery team wouldn't always understand what that service does," he added.
It was easy to see how APIs provide new power and simplicity to 'loose-coupling' and could solve the confusion and boost efficiency, Lee explained.
"With APIs, delivery teams are going to own all of their APIs. They will own documentation, automated testing, service catalogue, governance pieces. This will improve access and prevent the fossilization and ossification of their APIs," he told IDN. So, unlike SOA, an API platform provides a way to define, create and (when necessary) swap out full-featured interchangeable components. APIs also give more precise control to stakeholders, he added.
In choosing CA, Lee said, "CA really got it. They understood challenges to move from SOA SOAP to REST. They also were willing to work with us to bring our vision for APIs and Cloud together." Beachbody chose Amazon Web Services, and found CA's combination of technology and support a key to their choice of vendor. Lee listed 3 main pluses from CA:
1. Immediate info security approval. "CA had all the check boxes ticked," Lee said.

 

2. Robust end-to-end API ecosystem at the enterprise level. "That didn't exist from others. We got all we needed to build an evergreen API ecosystem," Lee said. Of particular note, Lee listed several CA API offerings that worked together -- Live API Creator, Mobile API Gateway, Developer Portal and API Management.

 

3. Consulting and support – "We needed some custom development to move to the cloud. We're a billion-dollar company, but nobody else would do that for us, not even Amazon."
Beachbody designed and implemented their solution in collaboration with CA and Amazon Web Services.
The API + Cloud approach is also set to pay dividends for Beachbody's international expansion plans. "As we look to expand internationally, we don't want to re-invent the wheel every time. We want a loosely coupled system that can move to other countries," Lee said. "Thanks to APIs, Beach Body can easily adjust their platform modules and capabilities to specifically conform to each international geo requirement for security, data privacy and content publishing concerns," he continued.
Longer term, Lee also sees great value in CA's vision for API-enabled plug-and-play components. "There may come a day where Beachbody may want to change out our e-commerce engine out, With the right set of RESTful constraints or APIs in place, I'll be able to support that – without having to go down for long periods or even retrain my whole IT team."
Lee also says APIs create one other big benefit – trust among teams, especially those that don't work together on a day-to-day basis. "To be agile, you don't need just great tools, you need to build trust across your teams. As we invest in APIs, CA is helping is to be sure they are trustworthy and supported," he added. Trustworthy APIs need good technology, along with good planning and a design-first mentality, he said.
Changing Business Realities Fuel Need for New Approaches to Software
Beachbody illustrates a core API CA World – that today's businesses need to be 'built to change."
In his CA World keynote, CA's CEO Mike Gregoire said in times past, businesses thought they needed a strong business model that would be 'built to last.' But today, even today's most long-lived and reliable business models are under pressure to adapt and change, so businesses now need to be 'built to change.'
Companies that don't change fast enough not only face pressure, some can even crash and burn -- victims of disintermediation, Gregoire said. So, rather than put blind faith in a status business model, companies need an agile, adaptable, flexible software at the center of all their activity. "The idea of sustainable competitive advantage has given way to the more contemporary concept of 'business agility,' meaning the ability to automatically sense, react and adapt quickly to shifting market dynamics," he said.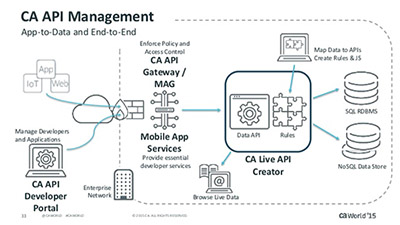 "APIs will help software become a 'core component of a business' DNA," Gregoire added. With APIs, software will be more agile and adaptive, even helping update or revise those business models cracking under pressure. APIs aren't just technology; they help companies achieve key business goals, he said, including:
adjust to change
capture new opportunities;
fight off new competitors;
cut costs and reduce errors; and
always be able to keep customers first.

APIs To Power "Nervous System for Digital Transformation" & "Gateway to DevOps"
CA's CTO Berkes described his vision for using API Management as a new "nervous system" for the digital enterprise. "API Management will communicate data and services for and between apps. It will also orchestrate processes. Modern day help desks, supply chain, edit and ecommerce are being re-platformed with API-driven technologies," CA CTO Berkes said.
In his ebook, 'Digitally Remastered: Building Software into your Business DNA,' Berkes wrote in part:
Because APIs are such a powerful tool for sharing data and services, they are driving a complete reengineering of the software supply chain. By programmatically providing access to a business's information and services, APIs dramatically accelerate application development speed.

Millions of servers connected to the Internet make it possible to quickly turn an iea into a valuable API-based service available to application developers.
CA's Bressler shared how APIs be a "gateway to DevOps," and accelerate the time it takes to get from idea-to-app.
"The way we create software today is the way a craftsman creates furniture 100 years ago. We get a block of wood and create a chair. When we need another chair, we have to go get another block of wood," Bressler said. "We need to be able to systematize the craftsmanship of software. The best way to do that is through better automation and more seamless DevOps," he said.
"With APIs, DevOps can more easily embrace many app requirements, including: security, quality, performance, user experience, governance, compliance and even analytics," Bressler added.
To prove the point, CA is exposing a set of useful health care-specific services as APIs adding in needed security features via the CA API Gateway. "A partner has already built a health care mobile app against these APIs, and the security is enforced in the gateway," Bressler said.
CA is also exploring a similar API-driven platform for finance, looking at ways APIs could help apps automatically know when they should step up risk authentication based on suspicious user activity. "Think about an app where as soon as you ask to transfer money over a certain amount, there is an API in the app that triggers a question," Bressler said. "The API is saying in effect, 'We need to know more about who you are?' And thanks to API, the company can choose what type of authentication they want to use -- 2-factor, facial recognition or whatever," he added.
CA is looking at a range of these API platforms for certain vertical markets, he said.
In another example of DevOps, CA is looking at ways to speed up how to show off ideas for new apps. "We're approaching the place where instead of showing a PowerPoint, you want to show an app," Bressler stated. "You want everyone to experiment -- developers, but also IT, business and even end users. That's where APIs are a special gateway to DevOps."
Beyond APIs, CA announced a series of other solutions in their Agile, DevOps, Security portfolios. Among them:
A new IDaaS (identity-as-a-service) solution to address identity and access management (IAM) needs for both on-premises and cloud-based applications.
Added DevOps capabilities across several product families, with intelligent analytics and integrations for cloud services and virtual networks
Enhancements to CA Agile Central, SaaS solution purpose-built to scale agile practices